Lesbian Lingerie Party
Posted on April 12, 2012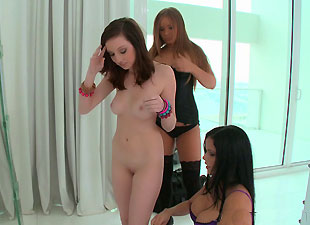 Two girls go into the lingerie shop, come out with a 3rd girl for hot lesbian action
So Diamond comes over and we get to talking lingerie. I don't have
much of it, so we decide we're taking a little trip to Lincoln and
getting us some. We come out of the store with some goodies in our
bags and a sweet honey on our arm who was down to come back to the pad
with us and get a chill on. Trying all this sexy underwear on excited
all of us plenty, so it wasn't long before all our pussies were in
somebody else's mouth. I ate Diamond's big beautiful ass and came like
a crazy bitch when she munched on my swollen clit. Damn that was fun!

Featuring
Victoria VossMercedes LynnDiamond Kitty